Submitted by

AE3D

on Sat, 12/23/2017 - 16:42
Till Our April 24th General License Class Starts
Our Next General Class Our next six week General Class will be helf at the Anne Arundel Radio Club's club house, Saturday afternoons between 1:00 PM and 4:30 PM, beginning April 24th, 2021 and ending June 5th, 2021, with no class on  May 29th. the Saturday of Memorial Day weekend.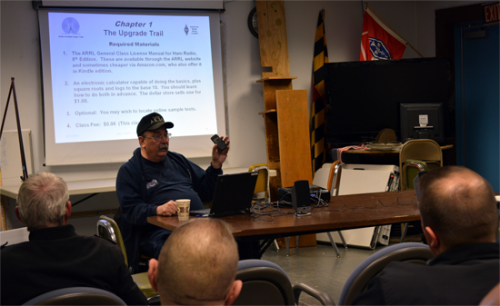 Keith Miller, AE3D instructs the (pre-Zoom) General Class of 2018
Preregistration There is no preregistration requirement, though we would appreciate if it you did so. We have included an 'Preregistration' form online for your convenience. Or you may email our training director, and include you name, address and telephone number to learn@w3vpr.org. This information is strictly for the club's use and will not be shared with anyone else without permission.
Testing FREE tests will be given at 1:00 PM on June 12th, 2021 in the Anne Arundel Radio Club's club house courtesy of the Laurel VEC. See our 'License Exams' section for details.
In Closing We hope that you are interested in moving up to General Class and all the HF privileges that will entail. We look forward to seeing you on April 25th. To register online click preregister me