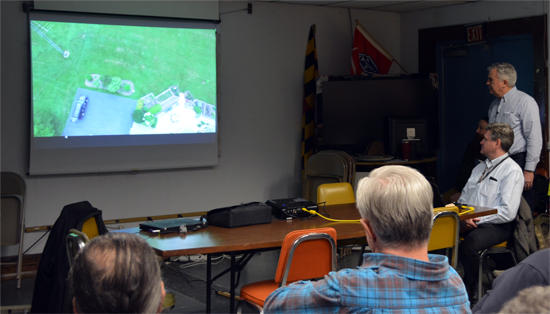 Frank Donovan, W3LPL shows off his antennas from an airborne drone
March 15th W3LPL was our guest speaker. Frank Donovan, W3LPL has no less than seven 200 foot tall towers and one of the most amazing antenna farms in the world.  More amazing, Frank put up every tower, and created every antenna himself.  Each is fed with a single band Kilowatt Amplifier, one for each band.  Over the years Frank has won about 1/3 of all the international contests he has entered.  And he has entered quite a few.  You have to see it to beleive it. Just take a quick look from the top. 
Two of Frank's towers aren't even in the picture
It seems two of Frank's towers are in his next door neighbor's yard.  Of course the neighbor is also a ham, and has hard line put in to Frank's house, so he can use the antenna's when Frank isn't.  Don't  you wish you were him?  The video presentation we were shown during Frank's presentation is found below, and is provided courtesy of You Tube.