THE 2020 EVENT IS NOT YET SCHEDULED
TIMER WILL BE ADDED WHEN AND IF IT IS
The Susan G. Komen Promise Ride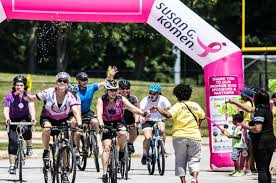 The Susan G. Komen Promise Ride is an all day long event Saturday June 22nd.  This bike ride begins and end at South River High School in Edgewater, and features 10, 35, 67 and 100 mile routes through beautiful country roads in southern Anne Arundel County. The ride is fully supported by SAG vehicles, police and motorcycle guides.  There will be six water and rest stops along the way, and the day starts with a breakfast for the runners and ends with a post-ride celebration at the start/finish site. 
The longest route, listed as 100 miles but actually 102 miles, begins at 7:00am, with runners for 67 miles departing at 7:30am, runners for the 35 mile course departing at 8:15am, and the final group of 10 mile riders beginning at 9:00am.   This means the final finishers of the longest rouute could be as late as 6:00pm   Maps of the courses are both viewable and downloadable by clicking on the appropriate lengths:  10 miles, 35 miles, 67 miles and 102 miles. 
We know it's Field Day Saturday, but hope some can take part, before spending the remainder of the weekend making contacts at the DFRC.