Submitted by

AE3D

on Sun, 09/22/2019 - 17:19
20-15-10 Tri Band Plus 40 Meter Dipole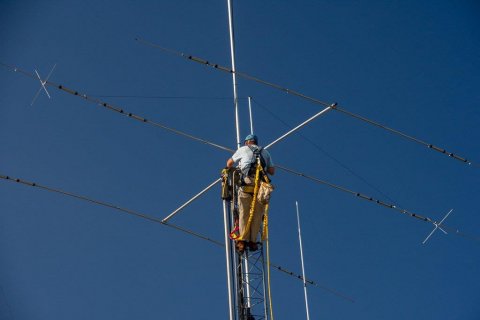 On Saturday, September 21, long time AARC member Ike Lawton W3IKE, Chief Certified Tower Climber, Bennett Palmer KC3COD along with ground crew leader Tony Giaimo K1VUV and chief line puller, Norm Washburn, KC3HMA installed a Crushcraft A3S antenna plus the add on 40 meter rotatable dipole extensions to the driven element on the North Tower on the AARC Club House.  Our first contact was from Ukraine and the second from Belgium.  The second contact was with a station who was being called by others, but after saying "W3VPR" only once, we were immediately replied to.  I believe we have ourselves one fine antenna. 
The next day, Sunday, we hear from Jim Wallace N3ADF that we may be able to obtain a second of these antennas with the 40 meter rotatable dipole extension by donation.  Jim is checking it out for us.  Watch this space. 
Our next effort will be to put 6 meter, 2 meter, 1 1/4 meter and 70 centimerter antennas on the West Tower.  
By the way we have lots more pictures of the antenna work that will be posted online shortly.