Submitted by

AE3D

on Mon, 05/27/2019 - 12:03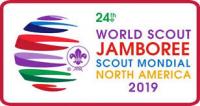 The World Scout Jamboree is held every 4 years somewhere in the world.  The last one was in 2015 in Japan.  The next one will be held in Summit Bechtel Sourt Reserve in West Virginia.  Of course the event will feature ham radio, with setup and testing of amateur radio station NA1WJ from July 18th through July 21st, and operation from July 22 through July 31st. 
Operation is expected on the following frequencies.  80m at 3.940 MHz, 40m at 7.190 MHz, 20m on 14.290 MHz, 17m on 18.140 MHz., 15m on 21.260 MHz, 12m at 14.960 MHz, 10m at 28.390 MHz and 6m at 50.160 MHz.  CW, PSK and FT8 operations are also expected.  Daytimes during Scout Demonstrations NA1WJ expects to operate 40, 20, 17 and 15 meters.  Details as they become available.
Information can be found at the following website:  www.NA1WJ.net, on Facebook under K2BSA.Scouting and on Twitter at NA1WJ_Scouting.  They are also on Echolink under Conference Node "JAMBO" and via D-Star as Reflector REF033A. 
Not only will you be able to work this event from your home shack, but it is our goal to have the club house ham shack operations during much of this event.  In fact, we plan on inviting local Boy Souts to join us for some of our operating sessions.  See Eric Berman, KC3GDV for details.